Before joining Trakt and authenticating your Trakt account via trakt.tv/activate, you must know that it isn't a streaming service. Trakt doesn't stream your favorite movies or TV shows. Instead, it helps you find your favorite movies and TV shows on thousands of apps like Hulu, Amazon, Netflix, Hoopla, Hayu, and more in several countries.
If you love watching TV series, hit blockbusters, and documentaries on different streaming sources, Trakt will make it easy to find them for free. With Trakt, you can track the timings and channels of the most popular shows and reach them without hassle.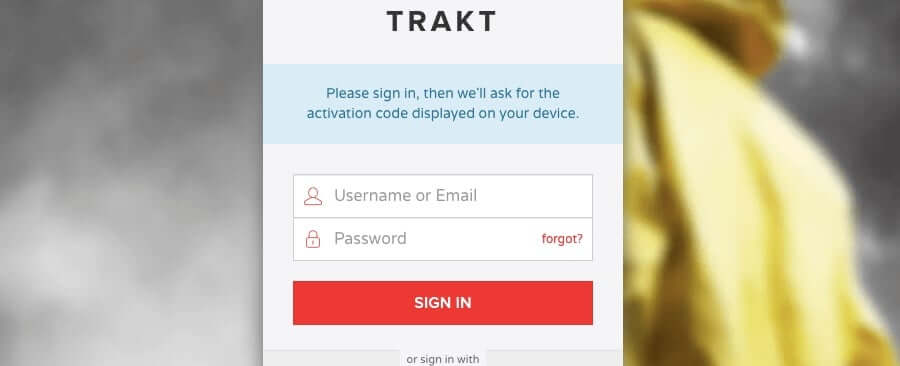 Since Trakt is a bootstrapped platform, the founders of Trakt urge people to sign up for VIP memberships, which will fund the company. By signing up for a VIP membership, you will enjoy a plethora of benefits –
Hides all ads
Unlock some VIP-only features
Pay for servers
Unlimited personal lists
Dark Knight Mode
Notes on List Items
VIP only forums
Trakt VIP Memberships
There are two types of VIP membership plans offered by Trakt. To join,
You need to access trakt.tv/vip on your computer or mobile device.
Select VIP for $30 per year (All VIP Features) or VIP EP for $60 per year (All VIP Features + Executive Producer Credit).
Click the SIGN UP FOR VIP button.
Enter your username or email and password.
Click the Sign In button.
Enter the payment details and become a VIP member.
If you haven't signed up for Trakt, refer to the following steps.
Go to the sign-up page – trakt.tv/join.
Enter your email, username, and password.
Check the Terms of Use and Privacy Policy box.
Click JOIN TRAKT.
Note that you can only sign up for Trakt VIP once you have the sign-in details.
How to Link or Connect Your Trakt Account to Media Center via trakt.tv/activate
Before Trakt helps you find what you want to watch, it will require you to complete the device authentication process. Most media centers like Kodi will ask for device authentication via trakt.tv/activate. Below are the easy steps to connect your trakt account with the media center.
Create your new Trakt TV account (in case you haven't created one).
Open the media add-on, app, or plugin settings.
Hover over to the authentication section to find a handy instruction guide.
It will also display a PIN or activation code on the screen.
Now access trakt.tv/activate on another device (mobile phone, tablet, or computer).
Enter the code. (Enter the sign-in details if you haven't logged in yet.)
After entering the 8-digit code, you will allow access to the media center.
Return to the platform (app, add-on, or media center) to check if your Trakt TV account is connected.
If you encounter any error like no code displayed on your device, you need to contact the plugin or app developers directly for solutions.
---
Complete Guide to Use Trakt on Kodi
Here are the steps to follow if you wish to install the Trakt plugin within the Kodi media center. Kodi supports iOS, Android, OS X, Windows, and Linux.
Access the Search icon on Kodi.
Select Search add-ons.
Here, you need to type trakt.tv and search.
Select the Script – Trakt option.
Now, you can install it and wait for the Trakt Add-On enabled message.
You will now see a popup screen with an 8-digit code.
Once you have the code, go to trakt.tv/activate and enter the code.
Follow the instructions to allow Trakt for Kodi.
The Trakt plugin will run in the backdrop and scrobble what you are watching.
---
Frequently Asked Questions
Is Trakt free?
Yes, you can enjoy the Trakt service for free. However, if you want to enjoy advanced features, join Trakt VIP membership.
Where can I enter my Trakt.tv code?
Open your mobile or computer web browser and access trakt.tv/activate. Then, enter the code and follow the instructions.
Is Trakt safe to use?
Trakt is safe to use. However, it is recommended to use a VPN service to safeguard your online identity and Trakt account.
What is the easiest way to watch a movie?
You will see an option that says Watch Now. Click the icon to enjoy your favorite movies.
My name is Dan Smith, and I am a senior technical writer at Activate Guide. I have been covering the technology industry for over six years, writing about streaming devices, TV channels, credit card activation, and many more.
Related Posts: