A popular MVNO service provider, Speed Talk Mobile offers its wireless service on the T-Mobile network and caters to those who don't want to spend their fortune.
SpeedTalk Mobile is known for providing affordable prepaid plans and SIM cards for cell phones, GPS Trackers, Smartwatches, and more.
If you recently purchased a SpeedTalk Mobile SIM Card, make sure you activate it before making calls or sending texts. The SIM card can be activated online using the official activation page speedtalkmobile.com/activate.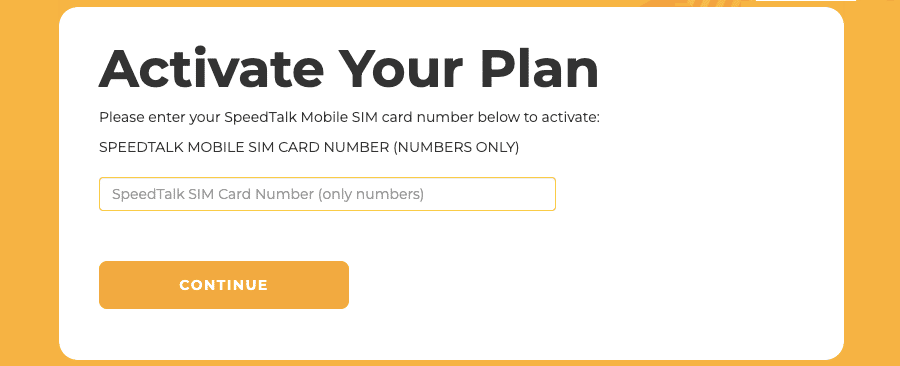 After activating the prepaid SIM card, please insert it into your device and set up your APN. Now you can download the Mobile App on your device and enjoy its services.
Guide to Activate SpeedTalk SIM Card at speedtalkmobile.com/activate
Check the step-by-step activation guide below to activate your SIM card and enjoy the coverage and saving.
Visit speedtalkmobile.com/activate on your computer or mobile device.
First, type in the 19-digit numbers from your SpeedTalk Mobile SIM card. (Only numbers, no letters)
Check the number carefully before moving to the next screen by clicking the Continue button.
Solve the simple math problem to prove you are not a robot.
Enter your email address and click Get a PIN.
Go to your email and use the PIN to activate the plan.
After entering the verification code, press Continue.
Next, type the ZIP code where you will use the new number.
Press the Continue button.
Fill in your contact information and a contact phone number.
Provide your billing information – credit card number, expiration date & security code.
Check the terms and condition box and click Submit to complete the activation process.
Your SpeedTalk Mobile SIM Card is now activated, and you have a new number. You can also find this number in your email.
Next, insert the SIM card into your phone and set up your phone with the APN instructions from SpeedTalk Mobile (check your device manual for guidelines). You are now ready to use your SIM card for making calls and texting.
Want uninterrupted service? Make sure you refill your account before the current plan expires. This way, you can avoid any service interruption.
How do I set up my SpeedTalk SIM Card?
To set up your SpeedTalk Mobile SIM Card, you will go through 4 different stages.
Activate SIM: Go online and open speedtalkmobile.com/activate on your computer. Enter the SIM card number and follow the on-screen instructions to complete it.
Insert SIM: After activating your SIM card, you need to insert it into your mobile phone and switch on your phone.
Setup APN: This can be done by following the given APN instructions.
Ready: That's it! You should be ready to use your phone now.
---
Frequently Asked Questions
How to replace SIM cards?
Whether you wish to remove a SIM card or insert it, it is one of the easiest tasks. But, it is important to locate the location first (it varies from phone to phone). After finding the SIM card tray, get the right tool to remove the SIM card. Then, use it carefully to pop the SIM card out of its slot.
Once the SIM card slot is empty, you can enter another SIM card (the one you want to use) and slide it with the tip of your finger. Yeah, it is that easy!
How to contact SpeedTalk Mobile customer support?
You can reach out to experts by following these steps.
– Go to the Contact Us page.
– Fill out the form by entering the required details.
– Select your Subject.
– Enter your First Name and Last Name.
– Enter your email address and phone number.
– Type the Message and click SUBMIT.
The support team is available round the clock to address your queries.
My name is Dan Smith, and I am a senior technical writer at Activate Guide. I have been covering the technology industry for over six years, writing about streaming devices, TV channels, credit card activation, and many more.
Related Posts: